TradeBlock: The Newest Sneaker Trading Service
What is Tradeblock?
Tradeblock is the newest addition (freshly released in May 2021 as an iOS app) to the ever-growing sneaker market technology. We've seen StockX and GOAT, both apps where you can buy and sell sneakers and apparel. But until now, we've never had a safe place to trade sneakers, which is a huge part of the market.
Let's get into the use case of this app and how it can potentially add to your toolkit for maximum resale success.
Review of Tradeblock
Sneaker trades, while sometimes hard to make, oftentimes end up benefitting both parties and allow sneakers to be circulated at double the rate.
Any dedicated shoe collector knows that making trades requires a lot of trust and can often result in scams, so it's surprising that it took this long for an app dedicated to shoe trading took so long to come out.
The User Interface (UI) of the app is fairly straightforward and is separated in two major categories, Sneakers and Collectors.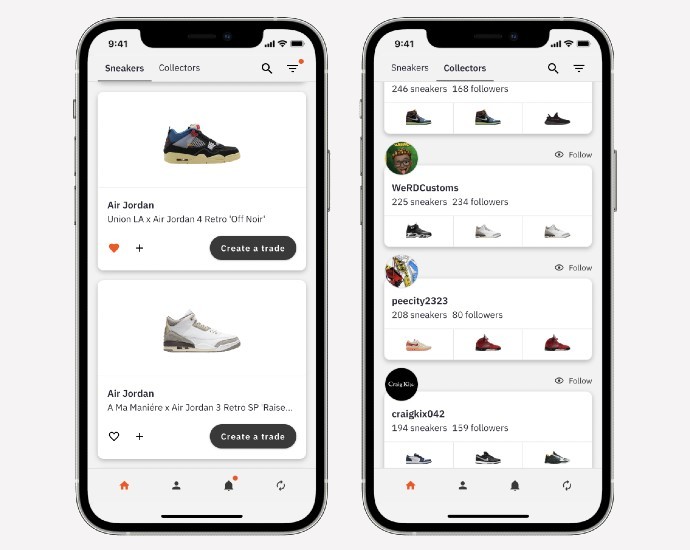 Image via Tradeblock showing the unique navigation and UI of the app
In the sneakers tab, you can browse popular models and create a trade that way. This is if you know exactly what sneakers you are looking for/have in hand already.
The collectors tab is for browsing other people's inventory. Here, you and other users can upload your exact sneaker collection and can create/request trades by looking through those collections.
BENEFITS OF TRADEBLOCK
If you are a sneaker reseller, this is an opportunity to join and to help grow a community with a good goal in mind that is currently an unfilled market need.
For sneaker collectors, this is a great way to connect with others and get the best sneakers in your hands.
Trading allows you to take advantage of the fact that someone wants to add a pair to their collection, instead of reselling for profit. In this case, people may be likely to interact more smoothly when they don't have to worry about making a profit.
Tradeblock however is still young and is the first mover in the trading area, so be on the lookout for how their adoption rate continues and if similar apps are released.
USING OTHER APPS TO TRADE SNEAKERS
In the past, trades have been made on Instagram, Twitter, Facebook, Discord or any other social network and have actually not been part of major platforms like StockX, GOAT or eBay.
Perhaps one reason other apps haven't adopted a trading mechanism is because of the inherent risks of sneaker trading, which include not getting the shoes you wanted, feeling secure that you're going to get your shoes at all, or not knowing who sends first, etc.
So, Tradeblock is an app where it would be worth it to read the Terms/Conditions and maybe even contact customer service if you want to truly understand the ins and outs of the app.
As said before, we've seen the buying and selling apps, and it was only a matter of time before we got a trading app.
**For a little bit more information on Tradeblock, check this video out**
Can Tradeblock Solve the Trading Problem?
As we said earlier, this app is still young so take time to see how it carries out the complex goal of becoming a trading platform.
Sneaker trading is a dynamic issue that will probably take some iterations as well as a certain level of adoption and trust that Tradeblock might not have yet.
~~
Alright, that wraps up our Tradeblock review.
As always, take a look at our Hypemaster Playbook to understand how you can make massive profits from sneakers each and every week! For daily information about the hottest kicks, check out our Instagram, and subscribe to our newsletter! We offer FREE lifetime updates for all customers, both manual and bot techniques.
Also, make sure to check out our YouTube Channel!
Stay safe, healthy, and happy,
Ben