Jordan Fearless Ones Collection Release Details and List
For this upcoming holiday season, Jordan Brand is celebrating the Air Jordan 1 on a massive scale by dropping a new "Fearless Ones" collection that features new interpretations and collaborations of the timeless sneaker.
Included in the mix, Jordan Brand has leaned on a handful of collaborators including Ghetto Gastro, Blue the Great, FACETASM, Maison Chateau, Melody Ehsani, and CLOT which we will all discuss.
Let's take a look at the entire Holiday 2019 Air Jordan 1 "Fearless Ones" collection below.  First I'll take about what's out RIGHT NOW and what you can go get.
Shattered Backboard 3.0 – Out Now
The third go around from the Shattered Backboard themed color way is here. This version features a crinkled patent leather instead of it's normally treated leather to the surprise of many to pay homage to the shattered glass. This may be a reason the resale value isn't as high as the previous two iterations. If you're interested, now might be your best time to scoop these. And if you bought in hopes of selling, keeping these on ice would be smart.
UNC to Chicago – Out Now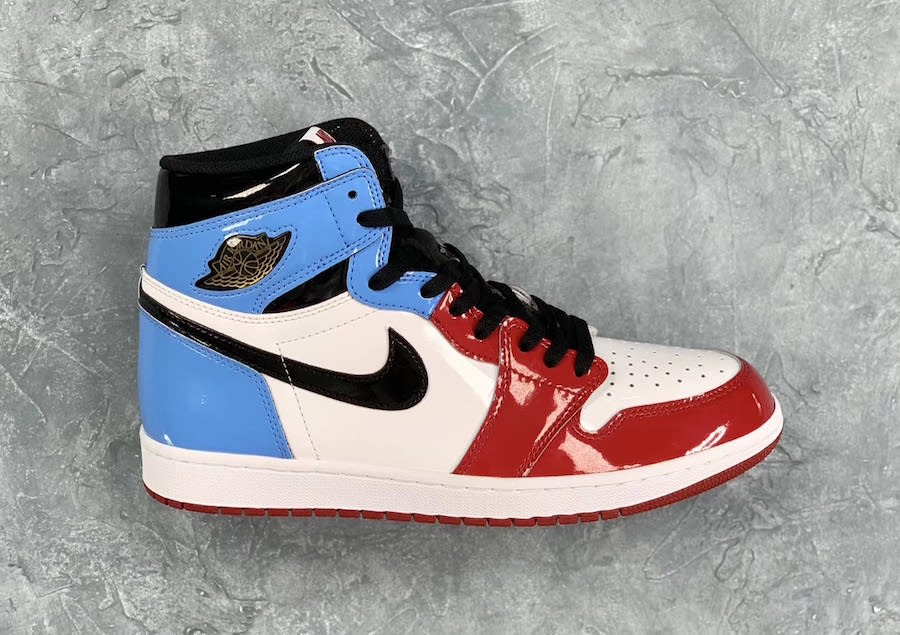 Next up is a mashup of two favorites – the Chicago and the UNC color ways of the Jordan 1. This all patent leather 1 is a high model which is always favored by sneakerheads. Same scenario as SBB 3.0, resale isn't terribly high. In some sizes, you may be just about even if you sell now – especially after StockX fees. If you're feeling these Bomb Pop sneakers, buy now.
Women's Fearless – Out Now
We throw it to a Jordan 1 high for women now. This shoe has a metallic rose gold finish on top of what looks to be a Bred color way. Surprisingly, these are still on SNKRS in some sizes and aren't reselling in the slightest. A men's size 10 (W 11.5) you can buy for slightly over retail on StockX. Look around for deals on some of your other favorite sneaker shopping sites.
Flyease – Out Now
Moving on we have a brand new sneaker model. What they are calling the Flyease is an interesting shoe to say the least. There is a strap on across the top by the ankle and a zipper on the medial side of the foot.
The laces are completely faux and offer almost no lockdown as you can velcro them open or closed to the outside of the shoe. Go cop now for under or around retail value.
Come Fly with Me – Out Now
We transition to a Jordan 1 Mid. The CFWM 1 recently release for $130. The shoe has a jewel swoosh slapped on a primarily black color way with red stitching.
Blue the Great – Out Now
The last of the collection that's been released already is this Jordan 1 Mid dubbed "Blue the Great". It's given the same name as it's creator – LA based graffiti artist truly made an eye catching design. A plethora of materials like leather, suede, and corduroy paired with blazing colors makes this a fun shoe. Again these were put at the $130 price point and have a spectrum of resale prices so far, depending on the size of course.
Next we'll talk about the heat that Jordan Brand has saved up for us going into the holidays.
React Ghetto Gastro – Releasing November 14th
This Jordan 1 low features a React cushioning system with an aggressive outsole and traction pattern. This piece of the collection was made with Ghetto Gastro – a collective of chefs in New York City. The sneaker has leather, nylon, and nubuck with asymmetrical red and green splashes over a black upper. Look out for these next week, November 14th for $160.
Melody Ehsani – Releasing November 15th
One of the more eccentric sneakers in the collection comes to us from female designer Melody Ehsani. These brilliantly colored mids have a number of alluring facets – watch faces for lace dubraes, text written on the midsole (nod to Virgil), and an icy outsole.
Early pairs circulating are going anywhere from $300 up to $700. So far these are the highest anticipated of the bunch and the best money making opportunity. Set reminders for November 15th and look forward to only spending $130. NOTE: women's sizing.
Facetasm – Releasing November 22nd
Japanese label FACETASM put their spin on a Jordan 1 mid. Just by looking, you can see the premium leather they use. A pull tab and a mini jumpman are other nice touches we see outside of a normal AJ1 mid. November 22nd is their release for $130.
Bloodline – Releasing 29th Black Friday
One of the most versatile color ways we see in this collection is dubbed the "Bloodline". Black, white, and red colors grace this iteration of the AJ 1. "Who Said Man Was Not Meant To Fly" is printed on the insoles which seems to be the only distinguishable difference from a normal GR. A classic high silhouette is what we'll get Black Friday this year, November 29th for $160.
Maison Chateau Rouge – Releasing November 30th
Next up is another mid cut. One of the more avant garde 1's in the collection are these, by the Parisian lifestyle brand Maison Chateau Rouge. Debossed African inspired prints are all over the paneling and overlays.
The modest tones give a very wearable feel. There haven't been many, if any, pairs to hit early so it's tough to speculate the resale on these. Don't miss out if you're interested, November 30th for $130.
Clot – Releasing Dec 7th
Hong Kong's CLOT has yet another Jordan collaboration. This mid features a a black stitched swoosh that appears to fade in on top of an ornate, satin-like upper. Rumor has it there's a hidden layer that reveals itself after wear but we are still unclear.
A medallion lace dubrae fits the royal theme. Bids are high on these so far even though no sales are recorded. Have your alarms set, we have a feeling these are a profitable prospect. $140 on December 7th.
Zoom Fearless – Releasing Dec 7th
Lastly on the roundup is this Jordan 1 high. What looks to be a normal AJ 1 is covered in reflective, iridescent material that will light up upon a flash of a camera. Full length Zoom Air cushioning is added to the midsole giving a comfier ride.
Additionally, a special code is etched on the outer heel along with a "Zoom Air" tag on the tongue replacing the normal "Nike Air". The one shoe that deserves two photos! Prepare for these to drop December 7th for $175.
How do we feel about this collection? Like some people have speculated for a while – is the Jordan 1 FINALLY being run into the ground? Is it nice that the consumers can easily get what they want? Let me know your thoughts.
As always, members of the SFSH Cook group and readers of our Hypemaster Playbook will have the tools and resources they need to succeed and profit.
Good luck this Holiday Season and enjoy your sneakers!
– Erik