Adidas Yeezy Spring/Summer 2021 Releases – Complete Guide
After a widely successful 2020, Yeezy is looking to build upon it. The year brought huge success to the name brand with Yeezy releasing some celebrated pairs. Yeezy set a really high bar for them as they look to top 2020 silhouettes. However, they have confirmed their new collection's release and there is every reason to get hyped.
Along with owning a good pair of shoes, it comes with a financing opportunity as well as reports predict huge growth spurts in this industry. The best time to start thinking about it is now.
If you need to spice up your closet or become owners of shoes with high resale potential, look no further than our Hypemaster Playbook. This bit by bit manual will ensure you̵7;re an exchanging ace by retaining all the information that is set down in it by a prepared affiliate, accordingly transforming your fantasies of a roaring resale business into a reality.
Now without further delay, let's get into the 2021 Spring/Summer Yeezy Releases. 
Adidas Yeezy 450 "Cloud White"
This is one of the most unique and ambitious designs Yeezy has released. The construction is primarily done in two parts but appears much more complex. A unique design in cloud white color on the bottom topped by a grey-beige knitted part with sock-like fit is an intriguing shoe and is wanted by many.
Release Date: March 6th, 2021
Retail Price: $200
Estimated Resale: $450
Adidas Yeezy 700 V2 "Cream"
This shoe features a grey mesh-like material with different colored highlights all around the silhouette. It comes with a BOOST midsole and the construction is done with breathable material. The white base provides good contrast and the reflective materials add a new dimension to it.
Release Date: March 13th, 2021
Retail Price: $300
Estimated Resale: $400
Adidas Yeezy Boost 380 "Covellite"
With a prime knit Royal Blue upper, Boost 380 "Covellite" gives a denim look. It also showcases a slate grey pattern which when paired with black laces makes a very good combination. It is finally finished with a brown and grey sole and a signature BOOST midsole.
Release Date: March 15th, 2021
Retail Price: $230
Estimated Resale: $220
YZY QNTM "Sea Teal"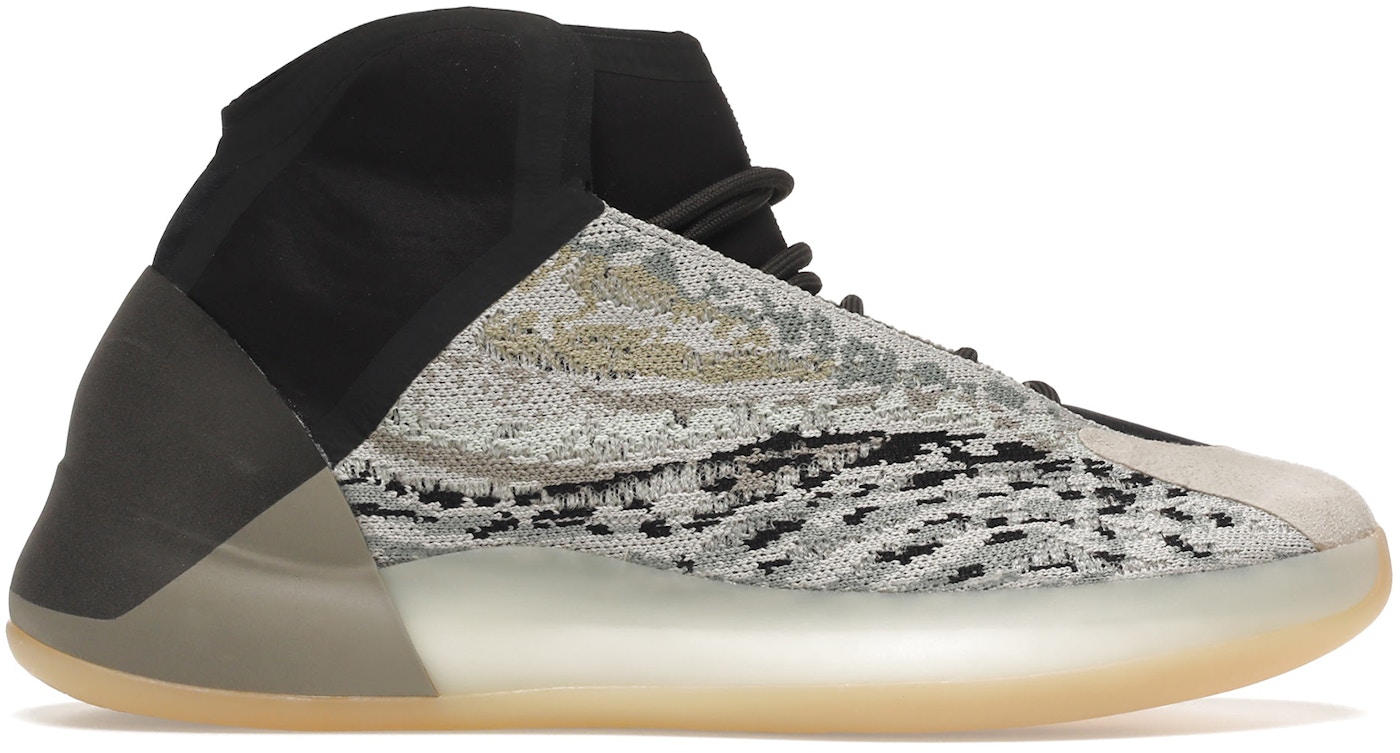 YZY QNTM "Sea Teal" is a work of art that is one of the most anticipated releases by Yeezy. It features an upper with white, black, grey, yellow, and green colors on it. The backside of it is completely black with part grey. The black makes up the laces area along with the sock liner and tongues.
Release Date: March 19th, 2021
Retail Price: $250
Estimated Resale: $220
Yeezy Boost 350 V2 "Ash Pearl"
"Ash Pearl" shows off the signature Yeezy Boost 350 look. It features a tan-colored stripe that goes around it different shades of grey, cream, and black colors are found around the stripe. Different parts also portray some color blocking and laces are topped off nicely.
Release Date: March 20th, 2021
Retail Price: $220
Estimated Resale: $312
Yeezy Foam Runner "Sand"
This unique design of Yeezy is set to be released in two different colorways featuring "Sand" and "MXT Moon Grey". "Sand" is an appropriate name of the release as it takes its color from that. The design is unique with gaps and holes to allow feet to breathe. The second version includes a sandstone-like tone around the lower part of the release, where it mixes into a moon rock-gray as we move along.
Release Date: March 26th, 2021
Retail Price: $80
Estimated Resale: $337
Yeezy 700 V3 "Kyanite"
The "Kyanite" is one of the proud releases of Yeezy. This showcases black laces, sock liner, and tongue which are expertly introduced to part the white on two sides. Behind the white structure, stripes of teal make up the sides of shoes which are breathtaking. The construction of the shoe is unique and intricate.
Release Date: March 27th, 2021
Retail Price: $200
Estimated Resale: $280
The Yeezy 500 High "Frosted Blue" makes a return in the original off-white suede and a combination of blue and grey upper. The high top silhouette embodies the original Yeezy-Kanye spirit and is ready to hit the shelves.
Release Date: April 12th, 2021
Retail Price: $220
Estimated Resale: $260
This release inspired by the original Yeezy Boost 700 has vibrantly written all over it. It showcases a very flashy combination of striking colors. The orange sole with a bright blue is nicely finished with off-white laces. Just the right amount of black is what finishes the silhouette off nicely.
Release Date: April 17th, 2021
Retail Price: $240
Estimated Resale: $420
Yeezy 500 "Enflame"
Yeezy 500 Enflame takes a different route from its roots. Unlike other silhouettes, this one comes in a variety of colors. A combination of khaki and green suede and dark blue leather makes up the upper while the perforated woody brown mesh is found around the shoe and the tongues. The fiery orange outsoles also add to the vibrancy.
Release Date: April 24th, 2021
Retail Price: $200
Estimated Resale: $350
Yeezy Foam Runner "Mineral Blue"
Any release in the foam runner series comes in a mineral blue color. This is constructed in such a way that it wraps nicely around the heel and ankle due to the higher exterior. The release has perforations all around which provide a different level of comfort and breathability.
Release Date: May 31st, 2021
Retail Price: $80
Estimated Resale: $250-$350
Yeezy Quantum "Flash Orange"
In this release under layers of grayed weave, the upper is made up of bronze and orange streaks, adding a completion that is to some degree interesting yet at the same time of exactly the same Quantum build. Moreover, a combination of grey lining and opaque finishes are found around the midsole walls, while the lace unit and collar contrast the rest heavily in black shades.
Release Date: May 2021
Retail Price: $250
Estimated Resale: $300
Start Reselling Sneakers Today
If you're looking to dive into the world of sneaker reselling, then you'll need a helping hand to guide you in selecting the hottest trends and understand how to price your sneaker collection. Our Hypemaster Playbook will help you do exactly that. Our E-book has been created for beginner and intermediate sneaker resellers like yourself to give you that jumpstart you need. With easy-to-read chapters covering multiple areas of sneaker reselling, we will break down all the complicated bits of the sneaker world into digestible bites.
Moreover, if you're a rather experienced sneaker reseller and are looking for a cook group to join, then look no further than our Winner's Circle which will help you cop all the latest drops.