Yeezy Day Restock – What Models Released and the Impact on Resale Market
Adidas and the Yeezy brand dubbed August 2nd, 2019 "Yeezy Day". This meant that close to 40 pairs (including some for kids and infants) of Yeezys were restocked and (supposedly) available to consumers.
The window of the releases started at 9am EST and lasted about 14 hours, as monitored by sneaker heads. There were a number of mixed reactions to the restock and how the release order proceeded.
Now if you're like me, I was not going to let Yeezys completely rule my life and potentially frustrate me as to roll the dice and take either an L or a W or simply sit on the sidelines.
With valuable OG models worth around $1000 on the aftermarket on deck to restock, most decided that this was worth a shot.
Many people opened up their browsers a few times throughout the day for a minute or two to see if they could get beyond the waiting room to purchase – but for many, this effort proved fruitless.
As a result, we saw some funny memes surface that day.
The jury's out in regard to why this unreliable waiting room situation happened on Yeezy Supply. It's also unclear whether or not Yeezy Day was a planned restock of the sneakers.
We're unsure if Adidas or West purposely held them from distribution upon the initial release of the silhouettes, or if they just produced more of them. From other research, no one seems to have nailed a trend or see a rhyme or reason.
Early Ideology: "Yeezys for Everyone"
For those who don't remember, West spoke about his dream of Yeezys being widely accessible. In roughly 2015, and on previous accounts he exclaimed, "Eventually, everybody who wants to get Yeezys will get Yeezys". This was a goal that seemed unimaginable around that time when the very limited 750 and 350 models were reselling into the $3,000 and $2,000 range, respectively.
West also reflected on his childhood in Chicago and spoke to that with, "Next season, my focus is gonna be doing high school uniforms. Like, when I was growing up, kids wanted Jordans — kids got killed for Jordans. Now that I'm in a position, I'm gonna make sure EVERYONE gets Yeezys." To me, this sentiment is super endearing and something to support – no matter what else people seem to criticize Kanye for.
What Did We See?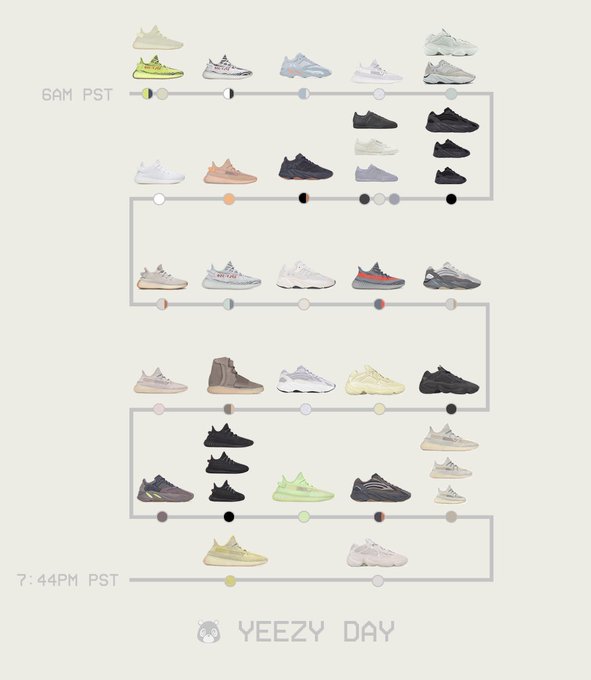 The models that released on Yeezy Day included:
Boost 700 Inertia

YEEZY 500/ YEEZY 700 Salt

350 V2 triple white

700 Utility Black

Powerphase Core White/Core Black/Gray

700 V2 Vanta,

350 V2 Sesame

Boost 700 Analog

350 V2 Beluga

700 V2 Tephra

500 Utility Black/ 500 Supermoon Yellow

700 Mauve

350 V2 black

350 V2 Static

700 V2 Geode

350 V2 Lundmark

350 V2 Semi Frozen Yellow

500 Blush

and 350 V2 Antila!
Among this plethora to restock, there were a few that were more desirable than others.
Let's check out some of the stand out models to restock.
First we have the the "Brown" 750.
The 750 is noteworthy as the first silhouette Kanye released under Adidas. 
For the Yeezy day restock, the Brown / "Chocolate" 750's were the least desirable from the model line to release, with a low resale price of around $750 during the release year of 2016, and not much rise compared to other models like the OG 750 Light Grey.
Next are the Beluga 350 v2 (first color way of the 350 v2) and the the Zebra 350 v2 (which had already restocked once).
Finally, an interesting choice to most snakehead's pleasure, we saw the restocking of all colorways of the Calabasas Powerphases, which were valuable only for a short timeframe during their very first debut but have dropped as low as below retail on the aftermarket not too long after.
The Causes and Effects
The math typically goes something like this, more pairs in circulation = a lower resale price, just like printing currency. This hasn't necessarily been the case so far in terms of the Yeezys that restocked. It may be too early to tell but it doesn't look like the market has moved much at all beyond a slight drop, considering the slew of variations that actually did come out.
There's a few possibilities as to why this mild reaction is happening: It could indicate that buyers are calling the bluff on the high resale prices, or that sellers are smart and stockpiling until a later date.
The latter could especially be true, as we've seen a handful of models like the OG 750 skyrocket in value over time, although it's still rare to see folks not immediately dumping their pairs to make the quick buck.
The last outcome is that people who were successful on Yeezy Day bought their pairs strictly to wear because they love them so much…this is the optimistic, old soul sneakerhead in me speaking.
But what does this big restock day mean for the brand itself and their stability and future direction?
I don't see why anyone, consumers or business analysts, can say this is anything other than a smart move by Adidas and Yeezy.
When you remove the scope of resale prices, how limited pairs are, and hype in general, I believe you're left looking at a brand and an offshoot that has done a fantastic job marketing and selling sneakers and streetwear.
Thinking closely, the Yeezy line has an incredibly diverse catalogue of sneakers – the 350, 500, 700, 750, and others like the Powerphase and future basketball models can cover all the bases for a sneaker enthusiast. The Yeezy brand has become viral and has had some of the most demanded shoes reaching a global scale, let's not forget.
It's also amazing that such a terribly reviewed website on Trust Pilot maintains enough reputation to have more than enough customers. Only in the insane world of hyped sneakers is something like this true…
What The Future Has in Store
Adidas isn't that far off the top as many people who are clowning them wish them to be. The brand's 4D technology we've seen recently is exciting and better than Nike's, and Boost still remains a top 3 cushioning in footwear.
I believe a few strategic moves can put them back in the spotlight.
What's next in terms of Yeezy restocks or better yet, new original sneakers? It's hard to tell at this point. Will Yeezy Day be an epic annual event? It remains to be seen!
One thing's for sure–despite concerns, restocks, and real and fake news, Yeezy's are not dead….yet.
You can stay tuned and turn on post notifications on Instagram and Twitter for accounts like @TeamKanyeDaily, @theyeezymafia, @yzylab. And of course all your other places to consume sneaker media like Sneaker News, Highsnobiety, and Hypebeast. Stay up to date from blogs, YouTube, or any other forms of media you prefer. Don't forget to set reminders on your phone for upcoming releases.
Be sure to check out other monthly guides and take a look at the Playbook we have featured.
Until next time, enjoy your sneakers, Yeezys or not !
– Erik